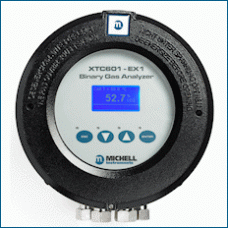 A robust, linear and stable binary gas analyzer for measurement of gas mixes present during the operation and maintenance of hydrogen cooled electricity generators. The primary measurement is looking for air as an impurity in hydrogen (H2). The second measurement is monitoring hydrogen in carbon dioxide (CO2) during system purging, and finally carbon dioxide/air during maintenance. The analyzer is suitable for hazardous areas and uses non-depleting sensor technology for minimal cost of ownership.



Product Features
Suitable for use in ATEX, IECEx, TC TR Ex & CCSAUS certified Hazardous Areas
Monitors all three phases of hydrogen cooled electricity generators - normal running, purging and maintenance
Remotely change the measurement phase to match your maintenance schedule
Range indication via 4-20 mA output
Touch-screen display allows calibration or adjustment without the need for a hot works permit
Compact and rugged design with an EExd enclosure
IP66 rated enclosure
Low cost of ownership due to minimal maintenance
Phase One
During normal operation the analyzer is monitoring the Air in Hydrogen (80/90-100% H2) for safety and efficiency.


Phase Two
Hydrogen is very flammable and is explosive in concentrations from 4% to 75% in air, so when routine maintenance is carried out, the plant can't simply turn off the hydrogen and open the turbine due to the explosive potential of the hydrogen/air mixture that would result.
Instead, the turbine is purged with carbon dioxide to remove the hydrogen. When the carbon dioxide is at 100% (and therefore 0% hydrogen), it is safe to allow air into the turbines.


Phase Three
Before the units can be opened the carbon dioxide, which is an asphyxiant, must be purged with air. Once the unit reads 100% air, it is safe to break the seals and commence maintenance.
After maintenance is complete, the purging cycles are reversed to end up with pure hydrogen in the system and the turbine can be started back up.




Technical Specifications
Performance


Phase
Phase 1 -
H2 in Air
Phase 2 -
H2 in CO2
Phase 3 -
CO2 in Air
Measurement Range
80-100% or 90-100%
0-100%
0-100%
Display resolution
0.01%
0.1%
1%
Response time (T90)
<20 seconds
<20 seconds
<50 seconds
Recommended calibration
Montly
Prior to use
Annually
Measurement Technology
Thermal Conductivity sensor
Gas Requirements
Non-condensing sample with particles <3μm
Display Type
Backlit LCD
Repeatability
±0.2% of span
Linearity
±1% span
Sample Flow Rate
100 to 600 ml/min
Sample Flow Effect
(calibrated at 300 ml/min)
< 1% of span for flows:
100 to 600 ml/min
Sample Pressure
0 to 3 barg with atmospheric vent
Sample Temperature
0 to +45°C max
Sample Cell Temperature
+50°C
Electrical Specifications


Analog Inputs
2 off 4-20 mA inputs
One to control phase selection
One for an external sensor that can be displayed on the screen
Analog Outputs
2 off 4-20 mA outputs:
mA 1 = Concentration
mA 2 = Phase indication
Alarms
2 off single pole changeover (SPCO) relays (250 V, 5 A max)
Digital Communications
MODBUS RTU over RS485 Protocol
Power Supply
24 V DC; 1.5 A max
Operating Conditions


Ambient Temperature
-15 to +55°C
Mechanical Specifications


Warm Up and Stabilization Time
< 30 minutes
Dimensions
234 x 234 x 172mm (w x d x h)
Weight
9.7kg
Wetted Materials
316 stainless steel, boroscillicate glass, platinum, (plus O-ring)
O-Ring Materials
Viton
Gas Connection
1/4" NPT to 1/4" tube (standard)
1/4" NPT to 6mm tube (optional)
Ingress Protection
IP66, NEMA 4
Hazardous Area Classification


ATEX
II 2GD
Ex d IIB +H2 T3 Gb
Ex tb IIIC T137°C Db IP66
IECEx
Ex d IIB +H2 T3 Gb
Ex tb IIIC T137°C Db IP66
Temperature Ranges for ATEX and IECEx as per O-ring Type
Viton: Ta = -15°C to +55°C
CCSAUS
Class I, Division 1, Groups B,C,D T3C
TC TR
1Exd IIB+H2 T3 Gb