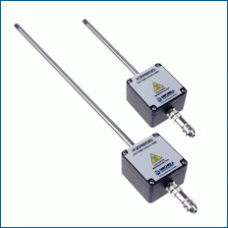 A cost effective zirconium-oxide analyzer to measure percentage level oxygen in combustion processes, ambient air monitoring and many more applications. The unit is configurable to measure either 0-25% or 0-100% oxygen and offers manual or automatic calibration to suit the customer's needs. Two probe lengths are available (210mm & 400mm) as well as two maximum sample temperatures (250°C & 400°C) for greater flexibility.




Product Features
Configurable outputs: 4-20 mA and 0 to 10 V DC or RS232 comms interface
Cycling 3.3 V DC logic output allows direct monitoring of the O2 sensor for diagnostic purposes
Can be calibrated in normal air (20.7% O2) or in any other known O2 concentration
Selectable output filtering allows fast and dynamic or slow and stable output
Externally triggered automatic or manual calibration
Diecast aluminium case IP65 with stainless steel probe
Sample temperature up to +400°C


Technical Specification
Performance
Measurement technology
Zirconium oxide
Gas
Oxygen
Measurement range
0-25% or 0-100%
Output resolution
0.01 V, 0.01 mA or 0.01% O2
Accuracy (0-25%)
< 0.5% O2
Accuracy (0-100%)
< 1% O2
Response time (T90)
< 5 seconds
Repeatability
< 0.5%
Sample flow rate
0 to 10 m/sec
Sample flow effect (calibrated @ 0.5 l/min)
±0.1% O2 (0 to 1 l/min)
Sample pressure
Atmospheric*
Sample temperature
Up to +250°C or +400°C
Sensor temperature
+700°C
Background gas
Air, N2, CO2, Ar or Combustion Gas




Electrical Input/Output
Power supply
24 V DC, ±10%
Power consumption
500 mA maximum @ 24 V DC
Analog outputs
4-20 mA and 0 to 10 V DC
Output ranges
0-25% or 0-100%
Digital communications
RS232 (not available if 4-20 mA output selected)
Operating Conditions
Ambient temperature
-10 to +85°C
Mechanical Specifications
Warm Up time
Approx. 10 minutes
Stabilization time
Included in the above
Dimensions
52 x 75 x 80mm (h x w x d) excluding probe
Probe dimensions
210 or 400mm (length) ø12mm
Weight
< 0.5kg
Wetted materials Stainless steel


Process connection
12mm Swagelok® compression fitting or equivalent required
Ingress protection
IP65
Housing material
Waterproof die-cast aluminium housing
Warning: Probe tip gets hot, do not touch without PPE
* The XR200 is designed to be operated at atmospheric pressures. However, it is possible to measure in the range 0 to 25% O2 at pressures up to 3 barg (43.5 psig) without damage to the unit. The unit will require calibration at the operating pressure and a separate pressure transducer feeding into the control system may be required.