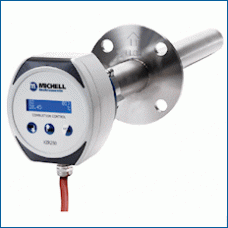 A compact zirconium-oxide analyzer to measure percentage level (0-25%) oxygen in combustion processes. The probe is manufactured from 316 stainless steel and can handle sample temperatures up to 700°C with an insertion length of 435mm. The sample is extracted to the sensor chamber and returned to the flue via the Pitot effect, so there is no need for instrument air. The analyzer uses our microion pump sensor (MIPS) technology and operates without the need for an air reference.


Product Features
Measures 0 - 25% O2 in Flue Gas
Sample temperature up to +700°C
Barometric pressure and temperature sensors included
MODBUS as standard
Single or Dual 4-20 mA outputs
User configurable relays
Easy to swap sensor, requiring no special tools
Sensor exchange program
Total weight is less than 5kg
Technical Specification
Performance
Measurement technology
Zirconium Oxide
Gas
Oxygen
Measurement range
0.1-25%
Output resolution
0.01 V, 0.01 mA or 0.01% O2
Accuracy
(0.1-25%) < 0.25% O2
Response time
(T90) < 15 seconds
Repeatability
< 0.25%
Sample Flow Effect
±0.5% of full scale
Sample cell temperature
+700°C (1292°F)
Temperature measurement
PT100
Display
16 Character, 2 Line, with backlight
Electrical Input/Output
Power supply
24 V DC, ±10% (limited power source)
Power consumption
700 mA maximum @ 24 V DC
Analog outputs
Single or Dual 4-20 mA
Output ranges (oxygen)*
0-25% O2
Output ranges (temperature)*
-50 - +300°C (-58 - +572°F)
Output ranges (pressure)*
260 - 1260 mbara (0.017 - 0.086psia)
Relays
1 x System alarm (SPST, N/O as standard)
1 x User configurable process alarm (SPST, N/O as standard)
Digital communications
RS485 protocol
Operating Conditions
Ambient temperature
-20 to +55°C (-4 to +131°F)
Ambient Relative Humidity
0-95% RH
Background gas
Combustion gas from natural gas, biogas or oil
Sample gas temperature**
+700°C (1292°F)
Sample pressure
260 - 1260mbar Absolute
Mechanical Specifications
Warm Up time
< 90 seconds
Stabilization time
< 5 minutes
Dimensions
130 x 120 x 150mm (h x w x d) excluding probe
Probe dimensions
Nominally 50mm OD with 435mm insertion length
Weight: Head
1.6kg (3.5lbs)
Weight: Probe
2.9kg (Stainless steel: 435mm) (6.4lbs)
Wetted materials
Stainless steel, Macor®, aluminum, platinum & PTFE
Process connection
2" 150lbs ANSI flange
Ingress protection
IP65
Housing material
Painted aluminium
Warning: Sensor gets hot (250°C) allow to cool and do not touch without PPE!
*Temperature and pressure are displayed on the main screen but can also be output via the MODBUS or the second mA output can be configured to either of these parameters.
**Temporary excursions up to 750°C for 30 minutes will not damage the probe.