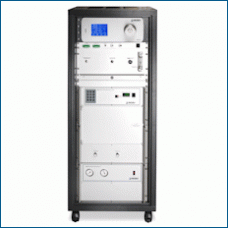 The DCS system is a complete rack-mounted calibration station capable of producing a flow of air (or nitrogen) at a pre-specified range of dew-point temperatures from a minimum of -100°C (-148°F) to a maximum of +20°C (+68°F). Through customization the DCS system can be PC controlled for automated calibration sequences or manually operated at pre-determined dew-point set points.

When ordering this system, simply specify the required operating range, and Michell Instruments will determine the most economical way to construct your calibration system.
Product Features
Complete dew-point calibration solution with optional compressor, dryer, dew-point generator, reference instrument and optional manifold
Generated output responds quickly to a change of set point
Stable humidity generation
Simple operation through manual flow mixing or push-button switching of set points
Remote control via RS232 comms (dependant on model)
Technical Specifications (DCS60, DCS80, DCS100)
Model
DCS60
DCS80
DCS100
Range
-60 to +20°Cdp (-76 to +68°Fdp)
-80 to +20°Cdp (-112 to +68°Fdp)
-100 to +20°Cdp (-148 to +68°Fdp)
Air Dryer
PSD2 Dryer
PSD4 Super Dryer
Generator Method
DG2 with manual flow metering
DG4 with solenoid controlled needle valves
VDS system with mass flow controllers
Reference Hygrometer
S8000 Chilled Mirror Hygrometer
S8000RS Chilled Mirror Hygrometer
S4000 TRS Chilled Mirror Hygrometer
Calibration Flow Rate
2 to 5 Nl/min (4.2 to 10.6 scfh)
10 Nl/min (21.2 scfh)
Best System Uncertainty
±0.2°C (±0.36°F) dew point (k = 2) @ +20°Cdp (+68°Fdp)
Set Point Precision
±0.5°C (±0.9°F) dew point
Carrier Gas
Oil-free compressed air (compressor supplied)
Operating Temperature
+15 to +30°C (+59 to +86°F)
Traceability
Directly to NPL and NIST through Reference Hygrometer
Power
220 to 240 V AC or 100 to 130 V DC, 50/60 Hz
Housing
Wheeled 19" rack system, 1.9m (74.8") high
Weight
98kg (216lbs) (approx)
125kg (231lbs) (approx)
Varies
Related Products
Calibration Instruments
Pressure Swing Dryers
A source of very dry compressed air for use as a zero gas in humidity calibration systems, or for general laboratory applications.
Dew-Point Generators
A range of dew-point generators offering ease of use and fast response to humidity step changes.
HG1
Low-cost, transportable calibrator for dew-point and relative humidity sensors with built in chilled mirror reference.
Reference Instruments
S8000
Features an integrated sensor head allowing measurement in the range of -60°Cdp to +40°Cdp, combining the measurement sensitivity and ±0.1°C dew point accuracy of the RRS system.
S8000 RS
Our flagship chilled mirror hygrometer, capable of measuring as low as -90°C dew point in a compact, lightweight package. The sensor head is optimised for fast response to low moisture levels and features the RRS system for high sensitivity and a dew-point accuracy of ±0.1°C.
S4000 TRS
Designed for very dry dew point measurements to -100°C (-148°F) with ±0.1°C accuracy. It features excellent stability and reproducibility across its entire measurement range, and is used in calibration and standards laboratories worldwide.