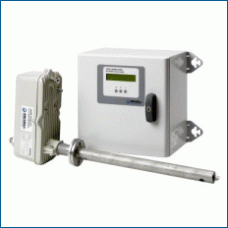 The XZR500 measures levels of oxygen in combustion processes and flue gases to help maintain the optimum level of combustion efficiency. Accurate control of combustion efficiency is critical for optimal fuel usage and reducing plant operating cost.
The XZR500 flue gas analyzer can be located close to the gas stream, further reducing costs. Due to its unique design the sensor is protected from damaging conditions, providing long life in difficult environments.
Michell Instruments has over 30 years experience developing high performance instrumentation capable of operating in extreme conditions. Our customers benefit from our knowledge of oxygen measurement at high temperatures and in corrosive, acidic gases.
Product Features
Innovative, Metallic Sealed Reference Sensor provides reliable and repeatable measurements with low maintenance
Simple air calibration reduces cost of ownership
Robust design maximizes sensor life
Flexible installation reduces retrofitting and start-up costs
Advanced design is easy to operate and maintain
No chance of thermal shock to sample cell
Technical Specification
Sensor Type


Measurement Principle
Zirconium oxide sensor with metallic sealed reference and K Type T/C
Performance
Gas Requirements
Typical exhaust gas
Measurement Range
0.01 to 25% Oxygen
Accuracy
Better than ± 2% of reading
Response Time (T90)
20 seconds
Repeatability
± 0.1% of reading
Stability
1% per month
Linearity
Better than ±1% of reading
Sample Flow Rate
Flue Gas at 0.5m/s (17.65 ft/s) minimum rate
Maximum Sample Pressure
Application dependent
Maximum Sample Temperature
+1300°C (+2372°F) (see probe selection in Wetted Materials)
Outputs
Output Signal
One 0/4-20 mA linear, with isolated output
2nd output optional
Output Load
Over 1000 Ω
Self-diagnostics
Includes: oven under temperature; thermocouple separation; calibration fail; EEPROM corruption
(Diagnostic information displayed on panel meter)
Output Ranges
Configurable between 0.01 to 25%
Alarms
2 Alarms; User-adjustable (10 W)
1 Fault Alarm
Display Resolution
0.1% in standard
(0.01% on request)
Power Supply
110V (100 to 120) 50-60 Hz or 220 V (190 to 240) 50 Hz
Power Consumption
110 V A
Ambient Temperature Range
0 to +55°C (+32 to 131°F)
Sensor Temperature
+700°C (+1292°F)
Operating Humidity
5 to 90% RH non-condensing
Physical
Dimensions
Control unit:
300 x 300 x 200mm (11.8 x 11.8 x 7.8 inches)
Sensor:
290 x 135 x 650mm (11.4 x 5.3 x 25.6 inches)
Weight
10 to 15 kg (22 to 33 lbs) depending on configuration
Wetted Materials
304 L Stainless steel (700°C (1292°F))
Inconel 600 (1000°C (1832°F))
HR160 (600°C to 1000°C (1112°F to 1832°F))
C2000 (600°C (1112°F))
Halar coating (120°C (248°F))
Ceramic (1300°C (2372°F))

Probe Lengths
0.4, 0.6 and 0.9m (15.75, 23.62, 35.43 in)
Installation
Stack and wall-mount
Housing Ingress Protection
Weather proof enclosure to sensor: IP53
Control unit: IP52