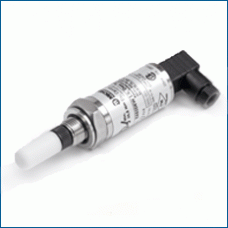 The Easidew I.S. (intrinsically safe) transmitter is a dew-point transmitter designed and certified for use in hazardous area applications (flammable or explosive gases) in all regions with certification from: IECEx, CSA, FM and ATEX.
The Easidew I.S. is available with a 5/8" UNF process connection or alternatively with a G1/2" BSP or 3/4" UNF process connection. It is designed for ease of use, incorporating all of the features needed to make installation and operation into your air or gas management system as simple as possible.

Michell's Advanced Ceramic Moisture Sensor technology based transmitter is calibrated to international standards and is delivered with a traceable calibration certificate.



Product Features
IECEx, CSA, FM, ATEX certified transmitter for use in hazardous areas
5/8" UNF, G1/2" BSP or 3/4" UNF process connection
Dew-point or ppmV moisture content
2-wire loop powered connection
Rugged 316 stainless steel IP66 construction
Measurement range -100 to +20°C (-148 to +68°F)
Accuracy ±2°Cdp (±3.6°Fdp)
Calibration Certificate (NPL, NIST)
Technical Specifications
Performance
Measurement Range
-100 to +20°C dew point (-148 to +68°F dew point)
-110 to +20°C dew point (-166 to +68°F dew point)
Accuracy
±2°C dew point (+3.6°F dew point)
Response Time
5 mins to T95 (dry to wet)
Repeatability
0.5°Cdp (0.9°Fdp)
Calibration
Traceable 7-point calibration certificate
Electrical Specifications
Output Signal
4-20 mA (2-wire connection, current source)
User-configurable over range
Output
Dew point or moisture content for ppmV
Analog Output Scaled Range
Dew point: -100 to +20°C (-148 to +68°F)
Moisture content in gas: 0 - 3000 ppmV
Non-standard available upon request
Supply Voltage
12 to 28 V DC
Load Resistance
250 Ω @ 12 V (500 Ω @ 24 V)
Current Consumption
20 mA max
Operating Specifications
Operating Temperature
-40 to +70°C (-40 to +158°F)
Operating Pressure
45 MPa (450 barg / 6500 psig) maximum
Overpressure Rating
x2 operating pressure 90 MPa (900 barg / 13,053 psig)
Flow Rate
1 to 5 Nl/min (2.1 to 10.6 scfh) mounted in standard sampling block
0 to 10 m/sec (0 to 32.8 ft/sec) direct insertion
Temperature Coefficient
Temperature compensated across operating temperature range
Mechanical Specifications
Ingress Protection Sensor
IP66 in accordance with standard BS EN 60529:1992
NEMA 4 in protection accordance with standard NEMA 250-2003
Hazardous Area Certificates
ATEX: II 1 G Ex ia IIC T4 Ga (–20°C to +70°C)
IECEx: Ex ia IIC T4 Ga (–20°C to +70°C)
TC TR: 0Ex ia IIC T4 Ga (–20°C to +70°C)
FM: Class I, Division 1, Groups A B C D, T4
cCSAus: Class I, Division 1, Groups A B C D, T4
Housing Material
316 stainless steel
Dimensions
L=132mm x Ø45mm (L=5.19" x Ø1.77") (with connector)
Filter (Sensor Protection)
Standard: HDPE Guard <10 µm
Optional: 316 stainless steel sintered guard <80µm
Process Connection and Material
5/8"- 18 UNF
Alternatives: G1/2" BSP or 3/4"- 16 UNF
316 stainless steel
Weight
150g (5.3oz)
Interchangeability
Fully interchangeable transmitter
Electrical Connections
Hirschmann GDS series (DIN 4350-C)
Diagnostic Conditions
(Factory Programmed)

Condition
Sensor fault
Under-range dew point
Over-range dew point



Output
23 mA
4 mA
20 mA

Approved Galvanic Isolators

KFD2-CR-EX1.20200
KFD2-CR-EX1.30200
KFD0-CS-EX1.50P
KFD0-CS-EX2.50P










KFD2-STC4-EX1.H
MTL5041
MTL5040