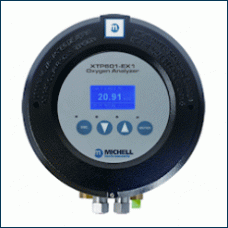 A robust, linear and stable oxygen analyzer for measurements in gases such as hydrogen, nitrogen or carbon dioxide. The sensor is housed in an IP66 rugged casing, making it suitable for a wide range of applications. When supplied with flame arrestors, the analyzer becomes explosion-proof and certified for use in hazardous areas.


Product Features
General purpose or ATEX, IECEx, CCSAUS, TC, TR & Ex hazardous area certified models
Ranges available: 0–0.5% up to 0–50% & 20, 80 or 90–100%
Touch-screen display allows calibration or adjustment without the need for a hot works permit
Intrinsic error (accuracy) is better than 1% full scale
Zero span stability better than 0.25% of span per month
Outputs include RS485 and two 4-20mA (following NAMUR NE 44 standard)
Low cost of ownership due to minimal maintenance and no consumable parts
Technical Specification
Performance


Measurement Technology
Thermo-paramagnetic oxygen sensor
Gas
Process and non-condensing sample with particles <3µm
Measurement Range
Selectable from 0–0.5% up to 0-50% and 20, 80 or 90–100%
Display Resolution
0.01% for suppressed zero ranges
Display Type
Backlit LCD
Accuracy Excluding Suppressed Zero Ranges
<±1% of span or ±0.02% O2 whichever is greater
Accuracy For Suppressed Zero Ranges (80/90 - 100%)
< 0.2% O2
Response Time (T90) with High Speed Response (HSR) Enabled
< 15 seconds
Repeatability
±0.2% of span or 0.01% O2 whichever is greater
Linearity
±0.5% of span or 0.05% O2 whichever is greater
Zero Stability
±0.25% of span per month
Span Stability
±0.25% of span per month
Sample Flow Rate
100 to 600 ml/min
Sample Flow Effect
GP1 and GP3: 100 to 500 ml/min (0.2 to 1.06 scfh)
EX1, EX3 and GP2: 270 to 330 ml/min (0.2 to 1.06 scfh)
Sample Pressure
0.75 to 5 BarA
Sample Temperature
5 to +55°C max (+45°C for standard cell)
Sample Cell Temperature
Standard +50°C (Optional +55°C and +60°C) for ranges 0-0.5% up to 0-50% only
Background Gas
Analyzer is calibrated in the background gas of the process. Standard gases are: N2, CO2, CH4, H2 & Biogas. Others available on request
Electrical Specifications


Analog Inputs
2 off 4-20 mA inputs
One for an external sensor that can be displayed on the screen
One to act as an active compensation for the process conditions
Analog Outputs
2 off 4-20 mA outputs (powered with 24V excitation voltage)
Output Ranges
Primary range is set to the calibrated range of the instrument
The second is user selectable 0-100%
Alarms
2 off single pole changeover (SPCO) relays for O2 concentration (250 V, 5 A max)
Datalogging
The user can use the digital communications to log the output from the analyzer
The unit will store 40 alarm points and the min/max O2 concentrations with date and time stamp
Digital Communications
MODBUS RTU over RS485 Protocol
Power Supply
24 V DC; 1.5 A max
Cable entries
Analyzer is supplied with 3 x M20 cable entries. Cable glands, conduit entries and blanking plugs are available as accessories
Operating Conditions


Ambient Temperature
5 to +55°C
Atmopheric pressure
750mbar to 1250mbar
Mechanical Specifications


Warm Up Time
<25 minutes
Stabilization Time
5 minutes
Dimensions
234 x 234 x 172mm (w x d x h)
Weight
9.7kg
Wetted Materials
316 & 430F stainless steel, boroscillicate glass, platinum, 3M 2216, plus O-ring
O-Ring Materials
Viton, Silicone or Ekraz
Gas Connection
EX1, EX3 & GP2: 1/8" NPT (female)
GP1 and GP3: 1/4" NPT (female)
Ingress Protection
IP66, NEMA 4X
Hazardous Area Classification


ATEX
II 2GD Ex d IIB+H2 T6 Gb
Ex tb IIIC T85°C Db IP66
IECEx
Ex d IIB+H2 T6 Gb
Ex tb IIIC T85°C Db IP66
CCSAUS
Class I, Division 1, Groups B,C,D, T6
INMETRO
Ex d IIB+H2 T6 Gb
Ex tb IIIC T85°C Db IP66
TC TR
1 Ex d IIB+H2 T6 Gb
Temperature Ranges for ATEX and IECEx as per O-ring Type
Silicon: Ta = -40°C to +55°C
Viton®: Ta = -15°C to +55°C
Ekraz: Ta = -10°C to +55°C




The XTP601 process oxygen analyzer meets or exceeds all relevant clauses in BS EN 50104 : 2010
"Electrical apparatus for the detection and measurement of oxygen".